Tuesday, August 08, 2006
GONNA DO IT!!!!
Ok so I've decided. I'm gonna do it. I'm gonna get all cute and stuff. I had to make a deal with husband to get him on board. But it should be OK. (wink wink)
I'm at a loss with what to do with my little man. Here recently he has just been such a little stinker. He never listens unless I YELL at him. I hate having to yell all the time but it's the only thing that makes him " hop to". I guess what I should do is instant timeout every. single. time he ignores me. I hate doing that because I feel like I'm being t hard on him. But on the other hand I don't want him to end up a brat. It makes things worse that his twin sister is pretty easy going and usually goes with the flow. So I'm always on his case and very rarely on hers. Makes me feel like I favor her. But really she just doesn't do as much. UGH! Parenting it's always something.
Posted by ONE HOT MAMA :: 8:52 PM :: 3 Comments:


---------------------------------------
Monday, August 07, 2006
To cut or not to cut...THAT is the question.

Ok so as I already wrote. I'd like a new hair style. One that's cute, sassy and flirty. I love being a mom. HONEST to God I do. But I don't want to end be of those mom's that's all boring and homely looking. I want to stay up with the trends and look good thru each stage of life. I also don't want to look like one of those women you see that are trying to look younger than they are. I think there is a happy medium in there. SO I asked about that style of hair and color. I got great reactions form everyone EXCEPT my husband. UGH! The one person I really want to look cute too doesn't like it. So do I do it anyway and hope it grows on him. Or not....... HMMMM

I just signed the twins up for pre-school today. They are due to start mid Sept. I think this is a great thing for them as well as me. They will be going Tuesday and Thursdays for two and half hours. So nothing real long but yet a break for all of us. I'm kinda sad about it all too. At one point I love this stage with them. They are so much fun. At another point I'm just so sad it's gone by so fast. I think this happens to every parent. You realize they they won't need you forever and it breaks your heart. That they someday will be grwon and on their own. You wan them to stay little and adore you forever. But each day you see more and more of the kids that they will become and eventually the adults they will become. It's so bittersweet.
Posted by ONE HOT MAMA :: 8:16 PM :: 5 Comments:


---------------------------------------
Wednesday, August 02, 2006
Made My first Quilt!

I am so happy with my little sewing self. I made this Rag Quilt for my Best Friend in Ohio. She just had a baby boy after 3 girls. So the little man had to have a baby boy quilt from his Aunt Angi.

Here it is......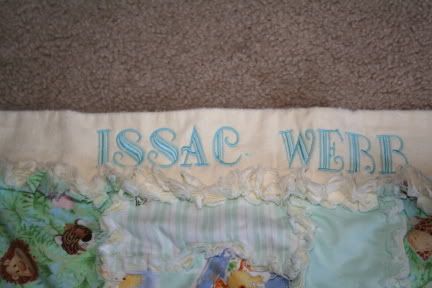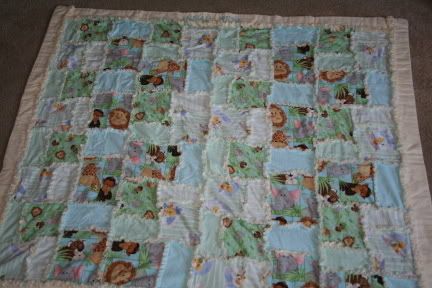 Last night I worked on getting my little kitchen nook organized to sew in. It's so small but I got it feeling a bit better. I think I am going to work on a memory quilt next. I have one outfit to sew up and ship out this next week then a Halloween outfit a friend has asked me to do for her. So slowly I am gaining experience and bringing in a little extra money here and there. I am thinking maybe when the twins are in Kindy that I'd like to work out of the house with my sewing. So that's the goal right now. I want to learn as much as I can in the next few years and then once they are ready to go to full days at school I'll be ready to go to full days at home.
Posted by ONE HOT MAMA :: 3:21 PM :: 5 Comments:


---------------------------------------
Tuesday, August 01, 2006
NEW HAIR STYLE

Ok so now I'm 30 and I think I want a fun cute new hair style to start off the new decade of my life. I've looked around and I think this is what I want to do with it.
It's cute and fun and dosen't look like much upkeep. HMMMMM I think I just may go for it.
Posted by ONE HOT MAMA :: 11:52 PM :: 2 Comments:


---------------------------------------