Friday, December 08, 2006
AND another one.
This quilt was done for a friend out in CA. SHe ordered if for her Mother in law. The little guys on it are her husband and his brother growing up. I'm pretty proud of it. I also just joined a MOM's group out here. We had our first playgroup today and my oh my was it nice. The kids had a blast and I got to talk with other mom's. The lady who was hosting the playgroup asked me to come back witht he twins next week we hit it off that well. I was very happy that she liked me and my kidletts so well to get a solo invite back, we had a lot in common and it's such a great feeling to think I may just have friends out here yet.
Posted by ONE HOT MAMA :: 1:13 AM :: 8 Comments:


---------------------------------------
Sunday, December 03, 2006
I have the BEST Hubby!

I forgot to post about my AWESOME early Christmas gift my Hubby has gotten for me. He bought me the sewing machine I have been drooling about for months. It's a

Husqvarna

Designer 1. OH MY GOODNESS this machine is

soooooooo

NICE!. He also out of the blue bought me the domain name and website for my business. I feel on top of the world. It's so nice to have him support me in this business and see that I can really make some extra cash with it.

So go check out my web site.

www.angibakercreations.com

I'm just now finishing up another memory quilt.

Probably

my best one yet. I'm really

liking

how is coming out. I also did one other one that I didn't post here. It's on my website tho ;o) I've been running my new machine like a mad woman since I got it. My only thing I'm working on now is how do I get more business and where should I advertise. I want to attract at least 2 more quilt orders a month. If I could manage that I think I'd be set! But one step at a time. I've come a LONG way since

Feb

2006. Yep less than a year's time I've learned how to sew and went

thru

two machines and started a

business

and a website. AMAZING!
Posted by ONE HOT MAMA :: 10:25 PM :: 1 Comments:


---------------------------------------
Monday, October 16, 2006
Another quilt for a customer/friend


She had me take apart her daughters clothes from her first year and make her a quilt. It was harder than I thought it would be. The knits were getting stretched out of shape and hard to work with. But it turned out ok and she was thrilled with it and asked that I do one for her son once he turned one.
Posted by ONE HOT MAMA :: 8:27 PM :: 2 Comments:


---------------------------------------
Thursday, October 05, 2006
New hair style and family photo's

I forgot to show my new hair and here are our recent pic's. The photo shoot was a nightmare and the kids ended up very unhappy. But these were the best of what we had to choose from.



Posted by ONE HOT MAMA :: 1:24 AM :: 2 Comments:


---------------------------------------

Kids are in new school.

Time for a update. We had to change the kids preschool. The one we had them in at first was not a good fit for William. This one seems to be better. He is just such a hard headed kid. Darn cute but hard headed. I think I'm gonna have to up the discipline on that one. Kills me to do that because I feel like I'm always picking on him. He is ALWAYS into something. SO anyway there was that. Angelina is doing well. She is in a whiney sassy stage right now. Oh my goodness can she give some hateful looks. We are so in for a rude awakening went hey get to be teenagers. Matt is on first shift now. We are enjoying the family time. But after 7 years of second shift it's taking some getting used to. The sleeping is the worst part. Both of us are used to having the whole queen bed to ourselves. My sewing is going great. I'm getting steady orders for things. The little extra money is coming in handy so that's awesome. I'm hoping it will just get better and better as word of mouth spreads. Someday I'd like to upgrade my machine to the next model. That will have to wait a while it looks like. I was going to do last year but we got a new car instead. Then I was going to do it this year with our tax money. But Matt has suggested we save all the money and put it down on a house. So we shall see how it all goes. Sooner or later I will get it. It's not do or die thing. I'm doing great with the one I have. I would just LOVE to have that other one. I'd also like for Matt to be more supportive of me in this. It's making money that he is happy to put in the checking account. Yet I get NO CREDIT for helping. He doesn't see it as I do I guess. I see this as a possible small business I can do out of the house. My mom did it when I was growing up. She made really good money and was always home with us. I want the same for my kids. I want the extra income and to be home. This will allow both. But I have to learn as I go and I need support to do that. I feel like I'm picking it up pretty quick and getting great response from online friends. My quilts are selling too which is so cool! Well that's pretty much all there is here.
Posted by ONE HOT MAMA :: 1:10 AM :: 1 Comments:


---------------------------------------
Wednesday, October 04, 2006
My latest creation
Posted by ONE HOT MAMA :: 1:29 PM :: 1 Comments:


---------------------------------------
Tuesday, September 12, 2006
I cried! They didn't.

Yep! Today was the first day of pre-school. The kids LOVED it! They went right in and got to playing. The didn't care if I left or not. When I picked them up they cried because they had to go home. They both were so tired. William was so tired he just laid on the stairs and whimpered until I carried him up them for nap time. Both kids had a scratch on their face. Seems they didn't like sharing the toys with each other. Their teacher said they did great sharing with all the other kids. Just NOT each other.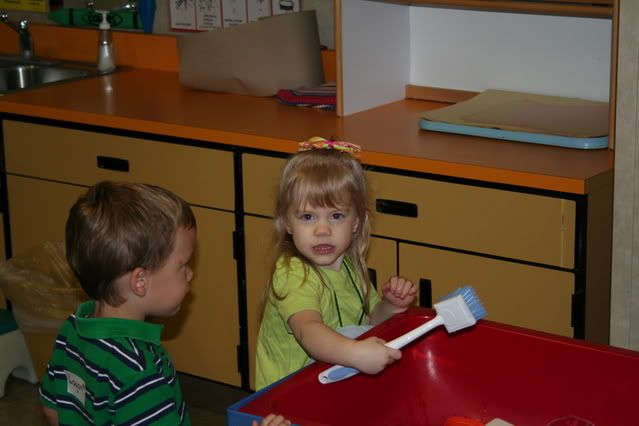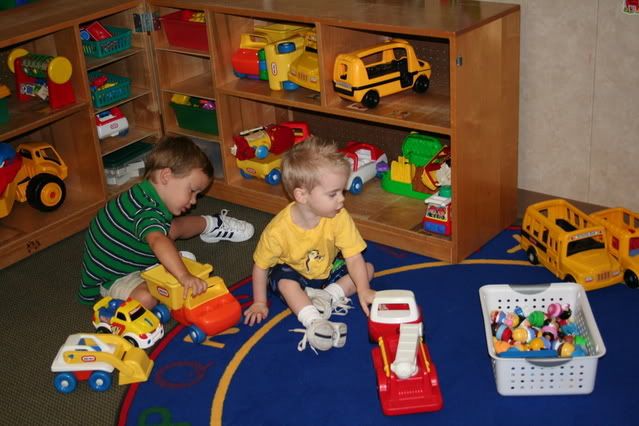 Posted by ONE HOT MAMA :: 9:11 PM :: 1 Comments:


---------------------------------------